Templemore College of Further Education proudly hosted this years Shave or Dye event.
The event involved a variety of students and teachers from the college who collected sponsorship money and above all were involved in being creative on the day with a rainbow of sprays and hair colours at their hand.
The event organiser Deirdre Allen (barbering teacher with the tcfe hairdrssing dept.) would like to thank all the students who volunteered and placed their trust in the team with their precious hair on the day. Also thanks to Margaret Mockler Cobbs for making fabulous apple tarts for the team.
A special thank you is extended to the following businesses in Templemore for being so generous in donating spot prizes for the event: IBO's Turkish Barbers, Mockler's Pharmacy, Mossie's Butchers, Templemore Arms Hotel, Centra Templemore, Murphy's Pharmacy, Café on Main, O'Brien's Retail, Murphy's Bar & Restaurant, Peter's Fruit & Veg, Affordable Castles.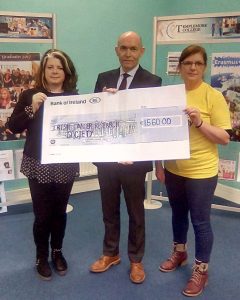 Photo – left to right – Nicola McMahon (Community Fundraiser for Munster), Dr. Noel Colleran (Principal TCFE), Deirdre Allen (barbering teacher and event organiser) presenting proceeds from the event with a cheque for €1,560.00.