It's all 'Action' at TCFE Media Department this year
2021-10-15
Templemore College is delighted to finally open it's doors fully and welcome it's new cohort of media students into the college this year.
The media department has hit the ground running with it's hands on workshops in camera work, lighting, audio and special effects.
Nicola Welford (Co-Ordinator) said 'It was such a relief to be able to finally carry out some practical workshops with the full group of students this year. It has been almost two years since the fully range of film equipment has been fully utilised'.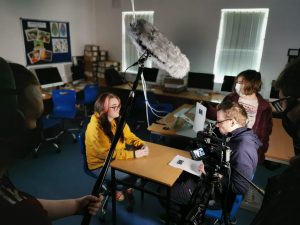 Students who enrol in either Creative Media or Film Production get the opportunity to study film production. This module gives them the skills to pitch a film idea, script write it, film it and edit it. At the end of the year they will each have a fully completed film. The students also create their own T.V ads. As well as studying film production, the students also learn how to use softwares in the Adobe Creative Suite – these include Photoshop, Illustrator, Premier Pro and Animate. The Creative Media students get the opportunity to study Animation. They learn the principles behind animation and complete projects in drawing animation, stop motion animation and digital animation.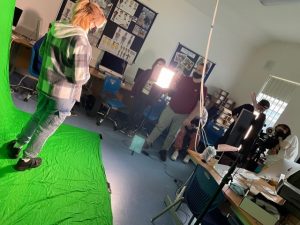 The film and animation industry in Ireland is growing at a fast rate and Ireland already has an excellent reputation at International level. The evidence that this industry is thriving in Ireland can be seen in Troy Studios, Limerick and the newly anticipated Film Studios in Nenagh.
All media students at TCFE have the opportunity to complete a QQI award at level 5 and progress onto a wide range of courses at Third Level.
---