Paddy's Day for Pieta at Templemore College of Further Education
2022-03-16
Last Wednesday the level 6 administration class group in the college hosted a fundraising event for Pieta House. It involved a morning of craic agus ceoil and a monster raffle. Music, brush dancing and songs were provided by students of Our Lady's Secondary School, Caitlin Corrigan Black a current Beauty student in the college performed some Irish dancing ,Luke Quinlan a previous past student of the college sang some great songs that all could join in with, and some poetry recited by Mary D'estelle Roe a retired tutor from the college who had just launched her new book "Fun Faith and Frolics". Staff also got involved in the event doing a rendition of the siege of Ennis and Jerusalema and even the Vice Principal Michéal joined forces with students from Our Lady's Secondary School to play the accordion. Everyone was encouraged to wear green for the morning and to get back in the mood for the long bank holiday weekend. To all who supported and participated it made for a very enjoyable morning.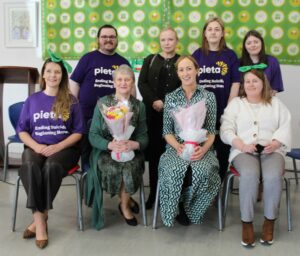 The college opened its doors to members of the public to partake in the festivities and join in the raffle on the morning. There were over 40 prizes being raffled to raise funds for the services provided by Pieta. The lucky winners won some fabulous gift vouchers, hampers, and gift sets.
The proceeds from the raffle and generous donations from people saw over €2500 raised. We would like to thank all those businesses who provided sponsorship for this event, it was greatly appreciated. A list of all our sponsors can be seen on our college Facebook page.
The fundraiser was part of the level 6 module Event Management which requires an event to be planned, organised and hosted. The students worked tirelessly from start to finish on this event, looking for sponsorship, liaising with musicians and college staff. They saw all the input and effort that is required in hosting events, and their hard work well and truly paid off.
If you would like to find out about our Level 6 Advanced Administration with Event Management please see contact us.
Open Day at Templemore College of Further Education
Templemore College was delighted to open it's doors on Wednesday last and welcome prospective students from Tipperary and surrounds.
The college is now finally dusting away the cobwebs, cleaning the floors and letting the light back in! Principal Dr. Noel Colleran said 'It's an exciting time for everyone now, I would like to thank the staff and students for adapting to the new ways of learning over the past two years and for their flexibility in upskilling and adapting to the ongoing changes'….'It looks as though the light is finally here and we are all very excited to welcome our new cohort of students into the college next September'.
With this in mind we are now actively recruiting for applicants for courses that will commence in September.
Templemore College of Further Education is the only exclusive Post Leaving Cert. (PLC) College in Tipperary. We provide a unique further education environment for all our students – both younger students just completing Leaving Cert. and more mature students returning to education. Collaboration of young and mature, experienced and fresh, provides a learning culture in the College that is challenging yet supportive. Our objective is to enable all students get the best out of themselves and this is achieved by developing relationships which are respectful and inclusive.
All students in our thirty programmes at levels 5 and 6 with certification from awarding bodies including QQI, Dept. of Education, City & Guilds, CIBTAC, CIDESCO, and CISCO successfully obtained their full awards this year.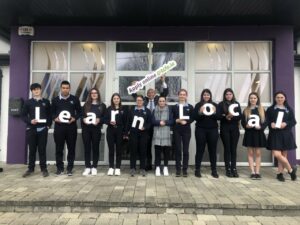 Many students are prepared to progress directly into employment while others progress to Higher Education. The preparation, consisting of one or two years courses, enables the development of independent and collaborative learning skills, which provides foundational skills whether employment or higher education is the progression route of choice.
Many of our students take the time on a PLC course to find out a little more about their likes and dislikes, their strengths as well as areas that they need to develop further. Ultimately, students who complete a PLC course are in a better position to decide future directions. It is an interesting fact that many Higher Education providers universally agree that students who complete a PLC course, younger as well as more mature students, are more resilient with completion rates far higher than students who go directly to Higher Education after doing the Leaving Cert.
Students who are unsure about progressing to Higher Education can defer for a year to do a PLC course, after which they are better positioned to be assured of the choices they are making. Furthermore, students who are approved for the SUSI grant, will continue to receive the grant if they progress to Higher education.
All in all, the benefits to doing a PLC course are compelling. It's a winner for younger students and their parents who can be more assured about Higher Education choices and be confident that the major financial investment will result in the completion of the degree chosen. It's a winner for more mature students who are nurtured into a supportive learning environment which ultimately leads to more confident, self-directed learners.
Creativity Flourishes at Templemore College
2022-02-04
A new exhibition space has been launched at Templemore College of Further Education. The space is located along the bustling corridors and student canteen area.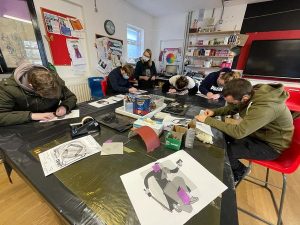 The uncluttered white walls and display system lend themselves to being the perfect spot for students, staff and visitors to enjoy the colourful and creative array of artwork currently on display. At present the exhibition displays a great selection of mixed media artworks produced by the students from Céim Eile under the Youthreach Department at Templemore College. Their art teacher Rachelle Kennedy has worked diligently with the students over the past number of months to produce this fabulous display.
In conjunction with this newly acquired space the college also hosted a Print Exhibition.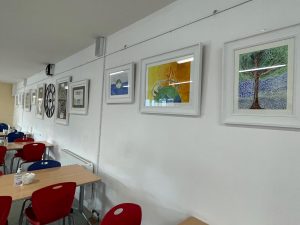 As part of this, Susannah O'Reilly Mullaney facilitated a dry-point print workshop in the college recently. The workshop was facilitated through The Print for Schools Initiative through Tipperary County Council. The TCFE students that took part in this workshop were from the Céim Eile – Youthreach Dept. And Creative Media students from the PLC dept. They all had a very productive session!
If you are a local artist and interested in displaying your work in Templemore College, please contact the college.
It's all 'Action' at TCFE Media Department this year
2021-10-15
Templemore College is delighted to finally open it's doors fully and welcome it's new cohort of media students into the college this year.
The media department has hit the ground running with it's hands on workshops in camera work, lighting, audio and special effects.
Nicola Welford (Co-Ordinator) said 'It was such a relief to be able to finally carry out some practical workshops with the full group of students this year. It has been almost two years since the fully range of film equipment has been fully utilised'.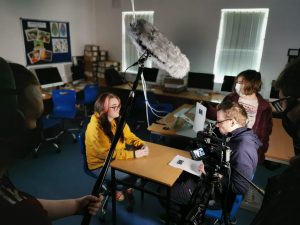 Students who enrol in either Creative Media or Film Production get the opportunity to study film production. This module gives them the skills to pitch a film idea, script write it, film it and edit it. At the end of the year they will each have a fully completed film. The students also create their own T.V ads. As well as studying film production, the students also learn how to use softwares in the Adobe Creative Suite – these include Photoshop, Illustrator, Premier Pro and Animate. The Creative Media students get the opportunity to study Animation. They learn the principles behind animation and complete projects in drawing animation, stop motion animation and digital animation.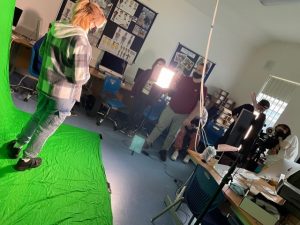 The film and animation industry in Ireland is growing at a fast rate and Ireland already has an excellent reputation at International level. The evidence that this industry is thriving in Ireland can be seen in Troy Studios, Limerick and the newly anticipated Film Studios in Nenagh.
All media students at TCFE have the opportunity to complete a QQI award at level 5 and progress onto a wide range of courses at Third Level.
---